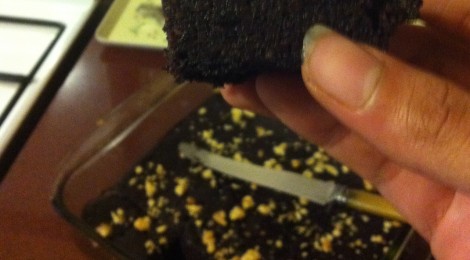 My primal brother and my source of inspiration is in town. (Yayy) and these walnut meal brownies are his specialty. We made the most delicious brownies the other day! They're primal, extremely low carb, and super gooey and delicious.
The aroma of chocolate baking in the kitchen filled my senses with warmth.
I bullied my brother to get me Dutch processed cocoa so that we can make it together! And boy did they live up to expectations!
The recipe:
Ingredients
1 and ¾ cup walnut meal – Put walnuts in the mixer and grind till they're a flourish texture. But not so much that they become a paste. They should resemble fine crumbs.
¾ cups Dutch process cocoa powder. (there's a shop in sion called cocoa and more that stocks it, phone number coming up/ nature's basket)
1 ½ tsp baking powder
1 ½ tsp baking soda
½ tsp salt
2 large eggs (I used 3 small eggs and they only added to the moistness)
1 cup coconut milk (room temperature) (I use a brand called home made coconut milk)
½ cup honey
2 tsp vanilla essence
1/3 cup virgin coconut oil (Nature's Basket)
crumbled walnuts for topping once baked.
Butter for greasing pan.
Method:
Preheat oven to 185°C. Butter a medium to large sized baking pan.
In a medium bowl, mix all the dry ingredients until well blended.
In another bowl, whisk eggs for a minute, then add coconut oil and honey and whisk again. (I did this by hand). Add in coconut oil and continue whisking till all the wet ingredients are well blended.)
Add wet mixture to dry ingredients and whisk well. The batter will be thinner in consistency to regular brownies. Make sure no lumps of batter remain. The batter will be a dark chocolate colour and it tastes delicious at this point too 😉
Pour batter into the pan and bake for 35 to 40 mins.
Let it cool before cutting. Top with walnuts.
I'm 30, and one day I want to be a good mom. And these recipes are a step in that direction. I will not stuff my kids with sugar, I will give them real food, and I won't deprive them of gooey brownies and cookies.
Albeit unconventional, these primal dessert recipes are awesome! (chomp chomp chomp). This is how delirious these brownies have made me!
Thanks for reading people! If you make them, tell me what you think!