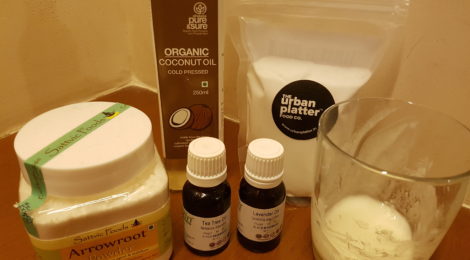 This is a Guest Post by Ashifa Sarkar Vasi.
Here is a simple recipe for homemade deodorant.With the amount of chemicals we are eating, breathing and using in our day to day lives, when we come across simple recipes to try to minimize that to whatever extent we can it's always a victory.
Here is the recipe that my friend Ashifa used for homemade deodorant and she simply swears by it!
This recipe is for a very small batch at first just to try it out and can be doubled or tripled as per the requirement.
3 Tbspns coconut oil
3 Tbspns arrowroot powder
1 Tbspn baking soda
3 drops Tea Tree essential oil
4 drops Lavender essential oil
Mix all the ingredients directly in a jar and you're done! I used an old glass jar that had a wide opening so I can get in my hand in easily. I literally use a two-finger swipe for each armpit. Basically a little goes a long way.
The deodorant isn't solid, but rather gooey and grainy. So you have to wash your hands after you use it. I've also read that you need to allow the deodorant to dry for a couple of minutes before wearing your clothes or it could stain them.Some suggest using an old deodorant holder and refrigerating it, but thats not what I did.
I am totally sold on the idea! It truly works! I may have a day out in the Mumbai heat, running errands, exercising, the works and guess what? I absolutely can't smell myself at all!
The only thing you have to be careful of is the possible reaction to baking soda. So if you have sensitive skin use less though this recipe does have the amount recommended for sensitive skin.
I paid Rs. 975 for all the ingredients but they will last me a very long time, like years! So it's incredibly affordable and easy to procure. And since the essential oils are the most expensive and optional, it is even cheaper without them.
Here are the 6 sites I referenced to get the above version:
Do let me know in the comments if you give it a try and how it works out for you!
About the author: Ashifa Sarkar Vasi is a passionate global health professional with 10 years of experience. Using skills in technical writing, communications, research, and project management, she has programmatically supported projects in India and the USA working for marginalized women and children. She has gained expertise in maternal and child health, strengthening health systems, health quality, and health determinants working with local NGOs and international ones, such as UNICEF, WHO, PATH, TEDx, and Plan India. Her goal is to have a global impact on policies and programs — and ultimately on people — through strategic and innovative thinking, methods, and analysis. She is also a respected ballet teacher.