At 1pm I am standing outside his school gate to pick him up. I spot him walking in a line and his face lights up into the biggest grin as he sees me. I smile back, show my ID to the teacher and we walk home hand in hand.
Lunch is on the table, his 1.5 year old brother is seated and is making a mess, I too sit down and eat.
He is sprawled all across the floor with his toy animals and is talking to them and playing. A do not disturb needs to be a sign around that sacred time. His time to unwind, where his time belongs to him only and he is not obliged to follow any sort of adult rules.
I respect that to an extent.
Then the food becomes cold, toddler needs to nap, the help need to eat, I need him to get a move on and the cajoling starts. Still I give him plenty of time to unwind.


N was always a baby and toddler who needed constant adult interaction. He needed to be talked to and read to or interacted with all the time. Now as a 4 year old he is very different. He can spend hours playing with his blocks, creating stories, do roleplaying, and make his animals enact scenes.
A is a baby and toddler who is pretty self sufficient and can spend ages following the help around, doing jhaadu-pocha and dusting, and manipulating things with his hands.
I give them plenty of time to play.
Apart from school from 9 to 1 N has the entire day till he sleeps at 9pm to do what he likes. We read A LOT and he plays a lot. I realise he needs a lot of space to do his thing just like me and I am happy to give him that.
We as a family have spent countless evenings post dinner under the dining table as that's our den – We're a family of lions. My beloved husband is the papa so all he has to do is sleep, while I hunt. Or I can't count the number of times I have had to re cover N inside is blanket fortress because an animal who is hunting him might see his small toe.
What both kids don't need is anything with batteries. I'm not saying that N doesn't try tinkering with my phone or asks for the ipad every now and then and I do oblige for15 – 20 minutes a day. But on the whole any toys with batteries or most plastic toys except cars and toy animals and of course lego, has not worked in our house.
I am not trying to say that we are pure minimalists or I won't even pretend that we don't have junk and clutter. Yes kids do have way too many things. I am just saying that it's really important to select toys well because most kids play well without any.
I had been eyeing this brand called Shumee Toys ever since I first had a look at the online store a few months ago. My cousin who's daughter ties rakhi to my boys gave them this excellent tool chair for rakshabandhan while my parents gave them this activity triangle and I bought them this wooden cake. I love that they are wooden made with safe paints and are unique.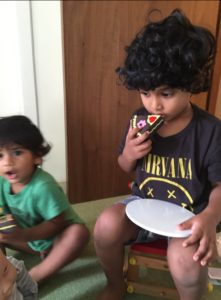 These are toys I will recommend or even give as gifts as it encourages the kids to manipulate the toys rather than the other way around.
This tools chair is a really really nice tools toy. You can make it from scratch and then use it as workbench with their tools.
The activity triangle has proved to be useful too. My little one A is not at all exposed to ABC as I haven't bothered reading books to him with the alphabet nor sung him the song though thanks to this toy he is recognizing ABC's everywhere and pointing them out by saying AB…
The cake I bought since A loves pretend f
ood and loves singing happy birthday so it's been a nice addition to his small stash of fake food.
If your child has a passion – Animals for N for the last year and a half, and cleaning aids and kitchen utensils for A for the past 6 months – I would say surround them with toys or books with the same theme. It really has worked for me at this point.
Blocks are always a great idea to have and so are puzzles.
But the less the clutter, the less the toys, and plenty of time for play has paid of big time for me.
As I write this I am sitting at home on the wettest day of the season. There hasn't been a moment that it hasn't stopped raining since morning and both kids have been stuck at home. They've built forts, castles, cleaned the house and indulged in a lot of roughhousing. We managed to read some books too. And there has been no point where they missed being out or got bored.
I love spending time with myself when I get the chance, and that's a skill I hope my de-cluttering their day will teach my kids.
Buy smart or don't buy. De clutter, do less, let them play with their imagination. READ READ READ. Children learn the most and the best by playing.
If we don't give them time and space for their minds to grow, then how will they be unique or weird?
Share with me, have you burnt your pockets buying toys that are untouched? How do your kids play?
Thanks for reading!