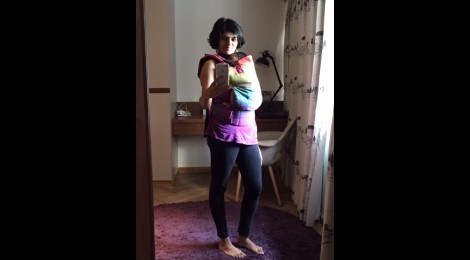 Warning
: count(): Parameter must be an array or an object that implements Countable in
/home/who678197/public_html/wp-content/plugins/really-simple-facebook-twitter-share-buttons/really-simple-facebook-twitter-share-buttons.php
on line
514
Note: having technical difficulties. in some browsers pictures are displaying horizontal. please see on chrome if possible. will try and rectify this asap. Thanks
The SSC or soft structured carrier is a must have for any parents of a young baby or infant as it can be worn from babyhood to toddlerhood. It can be worn front or back, and the best part is that the dads love it as many find the wrapping method often cumbersome. From personal experience I have never got my husband to even try out any of my wraps but he has happily worn our first son all over London in our toddler Tula.
Normally you can put babies above 3 months (7kgs plus) in a SSC but I have been wearing my 1 month old (5kgs) in it.
I have a toddler ssc (the Tula) and the Anmol SSC is my first (and last) regular sized SSC for babies weighing between 7 to 20 kgs.
It's a fully buckled carrier which makes it easy to put on and take off but the body is soft therefore takes the shape of the baby and makes it comfortable for carrying the baby.
What I really like about the Anmol SSC is that it is as good or as comfortable as my Tula, which is an international, very sought after brand in the world of baby wearing.
Anmol is an Indian brand and comes in various Indian inspired prints. I have a WCSSC (Wrap converted SSC), which has hand woven fabric on the body of the carrier and makes it look just dreamy and pretty.
Other than it's beauty, the buckles are of excellent quality and sturdy and this brand is a business member of the Baby Carrier Industry Alliance. It's completely handmade and unique as in there are limited carriers that look the same.
I pop in my baby in this carrier and he is off to sleep in a jiffy which is what I love about baby wearing in general, but also it's so easy to wear and baby is so cozy and happy.
Price wise I would say it's well priced compared to international carriers of the same standard or quality. (I paid Rs. 11000 plus for my Tula plus shipping).
The Anmol SSC is priced at Rs 6000 for the hand printed one and Rs. 7450 for the WCSSC. However there are cheaper carriers in the market like cuddle n care mei tai or soul ring slings but Anmol SSC is definitely comparable quality and safety wise to international ones. (I cannot vouch for the rest, as I haven't used them)
As I mentioned, I wear my newborn in the carrier, which is meant for 7kg+ babies.
This is how I do it.
Step1. Wear the belt and tighten high up on the waist.
Step2. Use a rolled baby blanket or towel and put on top of waist strap. I use this little pillow.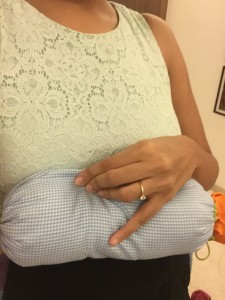 Step3. Wear the carrier on one shoulder.
Step 4. Put baby inside the carrier with his bum on the pillow and little feet resting in the sides on top of the waistband of the carrier like shown here.
The butt has to be below the knees to form an M shape. This is how the baby would look inside the carrier.
Step 5: put on the other shoulder strap.
Step 6: Pull and tighten all straps (specially the ones under your arms) to ensure your little one is snug against your body.
The comfort with ease of putting baby in and out of an SSC is unmatched and you can baby wear for many years using this one carrier. It's ergonomic which means it's orthopedically correct for healthy hip development.
I'm so excited that I have many years to wear my baby in all sorts of carriers! Here's to baby wearing!
Thanks for reading,