I don't know how to start with this review.
Because whatever I say it's going to sound skewed or one sided or super gushy.
Let me be upfront and say it as it is.
I opened the box that was sent to me from Maaeri to use and review and it was love at first sight. I loved the colour, the fabric, and the embroidery.
A is now 21 months. At this point I always have a ring sling in my bag. Somehow I don't use it too much most of the times though. Firstly he loves to walk and run. Second, at this weight (and he is a big toddler) a ring sling is not the most comfortable. I carry a ring sling over another carrier only because it's so compact and so easy to put in and remove the toddler and great for quick ups and downs on the whim of the toddler.
That's until I tried Maaeri's double layer linen sling.
This ring sling has become the one and only carrier I need now. I have worn A in it for 3 hours at a stretch on 3 occasions and he has napped in it over and hours each time. He hasn't napped in a carrier in months. Being a ring sling I am surprised how weightless my heavy boy felt in it and how I didn't feel it at all on my shoulder. Not at all!
In the picutre below we are leaving our house for Alibaug, he is in it all through and has a good one hour nap in it and wakes at our destination! i didn't feel a thing.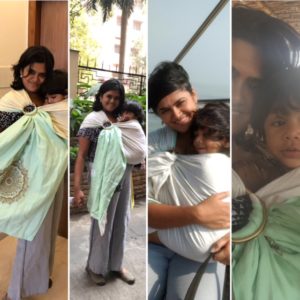 I had stopped having the boy nap in any carrier as it was no longer comfortable but since having this sling in my life things have changed and here we are lunching during nap time!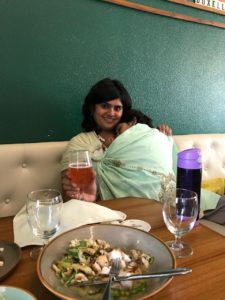 The linen is so thin and soft yet so strong and supportive. The fabric is so grippy that it doesn't budge or slip even a millimeter once worn. This is so important when toddler wearing. Because toddlers are heavier if the fabric slips even slightly from the ring you have to keep readjusting else it can get uncomfortable in no time. With this Maaeri ring sling I don't have to do that at all. It just stays perfectly. I highly recommend it for a newborn till toddlerhood carrier. It comes with a matching hand crafted sling bag which is just so well made and sometimes all I need to take with me: A sling and some keys and cash. I like a small sling bag when I am out because with a toddler you never know when they want to be carried and when the want to walk!
At a pricepoint of Rs. 4200 it is definitely 'expensive' in the Indian context when other carrier makers are pricing ring slings from 1900 – 2900. For me though a back story is very important. If I am spending money and I know it's not just spending for spending sake and it's going somewhere good then I prefer spending more on a product like that. With Maaeri there are definite differences. It's like comparing buying regular sugar from big basket or organic palm sugar from a health store. It's just not a direct comparison.
I have had multiple chats with Vidya the lady behind Maaeri. This is her story:
"Maaeri was conceived after one of our many trips to Indian artisan villages where we lost our hearts to the simplicity, hospitality, and immense talent of the people we met during our stay.

As joyful we were to be a part of this collage or colors and intricacies that have been learnt and preserved for generations, we were also pained to see the state of the people behind them. It was shocking to learn how little these artisans were paid for work that won not only our hearts but hearts of people all over the world. As we talked more we learnt how many of these artisans were leaving their traditional art forms to take up manual labor and other unskilled work that paid them more than what their incredible handiwork did. The problem was not a shortage of buyers. The problem was that the money went to the businesses and middlemen trying to maximize profits instead of the people who were actually making these beautiful artifacts.

There was a great imbalance. As we sat there in that simple mud house sipping the most delicious tea from these beautiful cups, we knew we had to do our bit.

We decided to get more involved and Maaeri was born in January 2016. It has taken us many months and many failed attempts till we were able to combine the right high-quality fabrics with baby-safe artistry without compromising on comfort. This has been a long and difficult process, but here we are and so excited!

Maaeri is our first effort to proudly present Indian traditional art forms in babywearing like never before.

We are making an honest attempt to reach out to struggling artisans all over India at the grassroots level and provide them with new opportunities to shine while bringing lovingly handcrafted products to you at the best price possible. We hope to make the special bond between parent and child a tiny bit more special by wrapping them with honest handiwork of an artisan."
Another thing that strikes me as something I won't mind paying money for is that they give give a free meal to children in under privileged schools. So one sling you buy ensures one meal for one child for one whole month! Giving free meals and getting struggling Indian artisans take pride in their work is no mean feat and that's something I am personally willing to pay more for.
As Vidya told me a few days ago: "You know, we donated close to 500 meals already That's my profit! Isn't it amazing "
They have double layer and single layer linen slings and I have had the opportunity to try both. The double layer is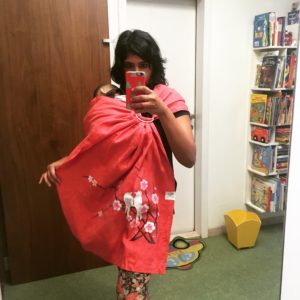 soft straight out of the box and so so toddler worthy. The single layer needs a couple of uses to break in, is equally grippy and strong as the double layer but when I wore my toddler in it my shoulders did strain slightly as compared to the double layer one which didn't lead to even a tiny bit of strain.
Surprisingly when folded both are almost equal in size. One would expect the double layer sling to be more bulky but its not.
Says Vidya and I quote: 'If I use the single layer linen on the double layer it will be super thick and if I use the double layer linen for the single layer it won't be supportive enough. They are both different and picked for their appropriate use '
Weight wise both are very similar and I couldn't really find a difference between the two. Here is me trying out the single layer linen sling that I bought to gift a friend.
A word or two about the embroidery: Though beautifully done and super neat, the one I have is a bit traditional for my taste and it may not be my exact choice of sling as it doesn't go perfectly with my casual taste in clothes. However this sling the way I see it is meant to be a compliment or a second sling to the parent because it can be truly appreciated for its uniqueness only when one has used others and can compare.
Though if I could convince someone who takes my word for things at face value I would say – trust me, get it, it's truly special.
Thanks for reading and best of luck to Maaeri! Keep being unique!