I haven't done as many product reviews that I would have liked on this blog. (I've done one to be precise before this). I have had emails requesting me to review their products but none of them matched with my parenting philosophy.
When I saw the Anmol wrap in news feed on face book, I reached out to the woman behind the product and asked her if I could review it. We met and I managed to try out the wrap and decide on its user friendliness for myself.
Read review of Anmol Handwoven Wrap here.
The story behind Anmol wrap is quite lovely. It's made by a mother – Rashmee – for herself and her baby, and then after being encouraged to develop it by her breastfeeding support group for other moms, Rashmee has taken it forward.
Rashmee had a preemie that she was determined to breastfeed and baby wear. Through research she learnt how preemies in primitive cultures and tribes thrived by being in an external womb. Here is a piece of research she came across:
"A premature baby, especially one with medical problems needing weeks or months of intensive care, is deprived of those final weeks or months in the womb. Instead, baby must grow in an outside womb. The problem is that outside wombs are static. They don't move. Research has shown that a premature baby whose "womb" moves gains weight faster and has fewer stop-breathing (apnea) episodes.

A group of newborn-care specialists in South America made an ingenious discovery. Some hospitals could not afford incubators and all the technology needed to care for prematures. They were forced to use the mother. These preemies were wrapped around their mothers in a sling like wrap, a custom called "packing." To everyone's amazement, the babies thrived as well as, or even better than, the technologically cared-for babies.

The researchers concluded that the close proximity to mother helped the babies thrive. Being close to mother entices baby to feed more frequently. Mother's warmth kept the baby warm; mother's movement calmed the baby, enabling the baby to divert energy from crying to growing. Mother's breathing movements stimulated baby's breathing, so that these babies had fewer stop-breathing episodes. Mother acted as sort of a respiratory pacemaker for baby's breathing."
To cut the long story short – She was very interested in baby wearing after all her research and experience with her premature baby. She never managed to find a suitable baby-wearing device for her first born. She looked for one while she was pregnant with her second, couldn't find one, and finally made herself one.
The result is Anmol Wrap. Lets get down to the review
Fabric: It comes in two variants: the cotton wrap for Rs. 1800 and the organic cotton wrap for Rs. 2400 and both have a supportive woven panel. I didn't get to see the cotton wrap but the organic cotton wrap is a really nice fabric. Many are concerned with the heat in these parts, we will be stuck inside with the AC all day if we're to baby wear they say. Not true. Mothers regulate the body temperatures of babies, if they're hot; we cool them down and vice versa while being skin to skin. Babies are meant to be close to their mothers for the first few months of life if not more. Research has shown time and time again that mothers regulate their heartbeat, temperature, breathing etc if they're skin to skin.
Price: Both Rs. 1500 and Rs. 1800 are pretty competitive. I paid about $75 for my ring sling! And it's almost half a sling as compared to the Anmol wrap as the weight is not as evenly distributed. At this price even if you don't use it as much as you originally planned you won't burn a hole in your pocket.
Safety: There is a very detailed and professional safety instruction leaflet, which comes with the Anmol Wrap. If you follow the instructions the wrap looks perfectly safe. Of course it is imperative when wearing babies (specially newborns) that you keep looking and adjusting them so that they're comfortable and also to ensure that the chin does not fall onto the chest. If you take precautions and are vigilant, the Anmol wrap is a safe option.
Ease of wearing: I tried putting on the wrap by myself at home by following the instructions on the leaflet. Though it looks complicated, I was able to master it on the 3rd attempt and didn't need to look. Like mentioned on the leaflet, it takes about 2 to 3 attempts to get the hang of it. Don't even try putting baby in until you have the hang of it.
Here is the video tutorial of how to put it on.
Till what age can you wear the baby? On the leaflet it's written that you can wear a 3 kg baby to a 13 to 15 kg baby. I have a big 17 month old who is already 13 kg plus. I tried wearing him and he really enjoyed being up close to me in that hold. We danced together to a couple of songs before he asked to be put down. When outside though he absolutely loves being in the wrap in the hug hold/ basic hold as he is up close with me and can see what else is going on.
Here are some pictures of us enjoying the wrap.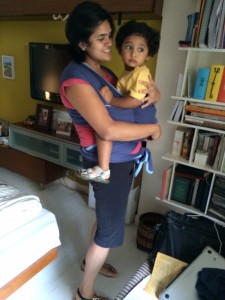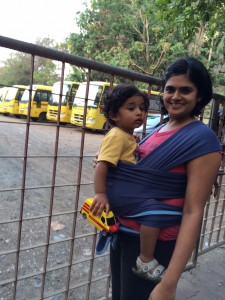 Each baby is different. But if you have a spirited baby or toddler (like mine) then the wrap is a god send. These kids do not appreciate being in a stroller or being far from mum and therefore you give your aching arms a break and can have the baby fastened up close to you while you get your chores done.
If you have an easily placated baby and can use just about anything then good for you, however even an easy baby will be happier being worn.
I don't plan to take my stroller when I go for a holiday later this year. Just the Anmol wrap.
Here is the video tutorial for putting a newborn to 3 months into a wrap.
Here is the video tutorial for putting an older baby into the wrap.
Colours: The ones ins stock are uploaded on Anmol Wrap's facebook page and there are quite a few to choose from.
The Verdict
When I have a second baby, I would want to focus on less crying for the new baby. I will have a very active toddler or older child on my hands, who will be hankering for all of my attention. Therefore in order to do justice to both, give the older child more attention and give the new member enough skin-to-skin contact baby wearing will be inescapable.
I see myself using the Anmol Wrap and definitely recommend it as we don't have anything else that comes close to that price tag.
If you want to order one, contact Rashmee through her Facebook Page.
Thanks for reading. What do you think? Do you see yourself wearing your baby? Do you find yourself wishing you had done it?