About Me
Hi,
I'm a mom of two boys born in 2012 and 2015, a Certified Lactation Educator and a Professional Babywearing Consultant.
In this blog I write about my experiences as I explore and learn along the way trying to be as natural a mamma as possible in todays modern world with regards to food, breastfeeding, baby wearing, cloth diapering, potty training etc. This blog aims to inspire parents to ditch conventional wisdom and trust their instincts (and their children's) over books, doctors, and even blogs like these ;)
Join me on my journey as i follow my instincts and try to make sense of this crazy ride called motherhood !
Email : aloka@wholesomemamma.in
Top Parenting Blog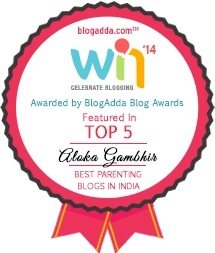 Top Mommy Blogger