Warning
: count(): Parameter must be an array or an object that implements Countable in
/home/who678197/public_html/wp-content/plugins/really-simple-facebook-twitter-share-buttons/really-simple-facebook-twitter-share-buttons.php
on line
514
Reading is a very big part of who I am. A lot of what I have learnt in my early years about people, human behavior, empathy and love has come from books over real life experiences.
So it was very important to me that my future kids develop a love for books. When you love books they are your valuable positions, you inhale their every page and admire them from afar on your bookshelf. Well I don't know if that's normal but at least I do. You get lost in them and start bonding deeply with characters. Empathizing, feeling, learning new things about new cultures, about people, new words, new phrases, new experiences. Even today I learn something new or change in some way every time I read.
I do wonder how people who haven't grown up with books learn about different people and cultures. But anyhow that's another discussion.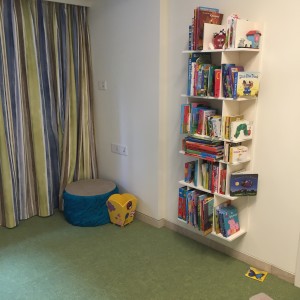 When N was a baby he was highly spirited and could not sit still for even a second. Even now at almost 3 he is constantly moving. Constantly. Unlike his little brother who can be still and focus on a task like trying to hold onto to something or trying to turn, N is rather impatient and cries in frustration if he doesn't manage to do something at first attempt. WhatI mean to say is that he doesn't sit still for anything under the sun even while watching TV (which he can't watch for more that 15 minutes at a stretch).
So when I started reading books to him when he was barely 3 months old I used to be quite disheartened to find him squirming and crying in seconds whereas baby A can look and talk to and coo at a book for 10 minutes at a stretch.
Anyhow I did persevere with N. Throughout his first year I read books to him sitting on the floor while he crawled, threw things, bit everything in sight, banged his blocks etc. I kept toys around to play with so he kept himself and his hands busy while I read aloud. At first it seemed like I was talking to myself. Then slowly but surely I noticed he would come to mylap to take a look, then sit for longer and longer spells, until he himself would rush to his room after lunch saying book book.
Here are few things I did to inculcate love for books:
I tried buying or borrowing books that really appealed to his current obsession which was for a long time vehicles but since March has been only animals. First wild, then ocean, now farm.
I took him to the library regularly as special mamma baby time.
I took regular daily instances like splashing in puddles and likened them to characters in books like Peppa Pig.
I would put down a book or just shorten it if I felt he was losing interest.
I don't remember when but at some point after he turned two something amazing happened. He was at his worse behavior with terrible two's temper tantrums and the works but I discovered that he could be made to do ANYTHING with a 'stoly' (he still cant say r). He needed a story to go for a bath to eat a meal to leave the house to come back to the house to put on his shoes etc.
While all of us around him made up stories from the drop of a hat I started buying more and more books with actual stories, more verbose, more lengthy and figured he would sit for much longer spells when there was more stories involved at least the first 3 times after which he would lose interest.
So I pursued this gladly.
He loved:
The tiger who came to tea.
Gorilla
Winnie the Pooh's adventures
the Gruffalo series
The Smartest Giant in Town
Monkey Puzzle
The Little Blue Truck
Corduroy
the Lion King
Jungle Book
Noddy series
Along with tons of pop ups, lift the flap books, etc. for busy hands.
(These links are affiliate amazon links and if you do decide to buy any of these, I'd be really glad if you click through from here.)
We now read all day everyday. He'll come to me with books during meals, when I am sitting down, naptime, bed time, rainy evenings indoors etc. he even picks up books from his bookshelf and reads to the baby as he has figured out that it's a great way to bond. 
He loves his bookshelf dearly and will happily clean up, try keeping it tidy and put books away neatly.
While we do frequent the library I find that I am always running out of books to read to him as he doesn't enjoy a 'stoly' more than twice.
Therefore my next aim is to try early chapter books. Here's an article on why they're so great and also lists on good ones to read to 3 to 5 year olds.
I have a slightly selfish interest in starting chapter books, I know I will probably be hooked too as our reading aloud progresses. Other than that I feel N needs the extra stimulation as he really can stay still and listen to a story for a long while.
However I won't start reading them before he turns 3 –In October- and will back off if he doesn't enjoy them. Of course I will continue reading all sorts of picture books!
My first four purchases of chapter books are:
Mudpuddle Farm: Six Animal Adventures
The Magic Treehouse
Mercy Watson series
Three Tales of My Father's Dragon
(These links are affiliate amazon links and if you do decide to buy any of these, I'd be really glad if you click through from here.)
Once we do start reading, I'll review them on this blog.
Thanks for reading. Do you have a young one who needs variety over repetition? At what age did you start reading chapter books aloud?