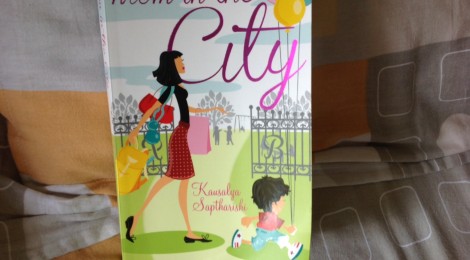 Warning
: count(): Parameter must be an array or an object that implements Countable in
/home/who678197/public_html/wp-content/plugins/really-simple-facebook-twitter-share-buttons/really-simple-facebook-twitter-share-buttons.php
on line
514
With the course I am doing to become a Certified Lactation Educator, research for the posts on this blog, general reading on real food / mommy blogs, research on new organic / wholesome foods in Mumbai to try for my family and of course spending the day with a very active highly talkative toddler, I think it suffices to say I don't get time to read for pleasure.
Therefore I was thrilled to receive a request from the author of – Mom in The City – Kausalya Samptharishi to review her new book. Light reading? That too for 'work'? Yes please! And even better is the topic, a new genre called mom-lit. As the name suggests it's little bit like chick-lit but more grown up and targeted at moms.
This book has it all. A single mom who is also a career woman, a cute toddler, the 'woman' in the mother as she sizes up of the other mothers in her son's posh playschool who are very well turned out and catty (think high school memories) and a new handsome man to fulfill the love-life angle.
But first things first; When I ripped open the package with my teeth (as I sometimes do when I receive a new book) I was pleasantly surprised. Today with threadbare publishing budgets, books by Indian authors almost resemble the pirated roadside variety sold at traffic signals. Not this one. This book has a beautiful cover that's actually thick and of good quality. I know that the old adage goes, don't judge a book by its cover, but seriously who doesn't? If it feels good on the outside, dive in.
The book starts of well enough. The author sets it up beautifully. The description of the mom – child relationship warms your heart and you really do feel for the single mom whose husband unceremoniously dumped the mother and infant and took off. As a mother you're constantly trying to be the best person you can ever be to keep the innocence intact and beautiful for as long as possible. Without a husband – a husband who took off no less – there will come a time when that innocence will be ripped away and it won't be pretty.
The author describes Irawati – the protagonist – as supermom. She cooks, she cleans, she takes care of her son Abhi (including dropping and picking him up from school), battles with mental baggage, and works from home and that too in a demanding job with a publishing house. Since she is someone who has recently moved back to Delhi from California in order to pick up her life this may sound plausible. However the skeptic in me has to wonder, really? In India when you can get help easily?
Leaving the nitpicking aside the books a breeze, the writing is good, it has its fun elements and brings about the poignancy of single motherhood and motherhood's tribulations in general.
Enter Vasu – The man who was Ira's friend in college and the one she loved, and whom she had a falling out with over a decade ago. His entrance in her life is nothing short of a miracle. This according to me is where the book falls short. While Ira makes it pretty clear that she has been in love with him once before and can easily fall in love with him again, there is no indication that there was any chemistry between the two when they were in college. Therefore when Vasu (who has no shades of grey) jumps into her life wooing her and being the doting father figure in Abhi's life, you get the feeling that the author is trying hard to get the mush in there, almost like an after thought.
The book on the premise of a single woman making it on her own in Delhi with a young son is in itself a refreshing and empowering read. I am not convinced with the romantic angle but maybe the moms who like a fairy tale ending might just dig Vasu.
The verdict: A light and breezy read for moms who want to identify with a gutsy lady trying to fit in. Entertaining, refreshing and touching.